September 2021: On The Pigs Back, through Covid19 and back to 'Normality'.
September 2021: On The Pigs Back, through Covid19 and back to 'Normality'.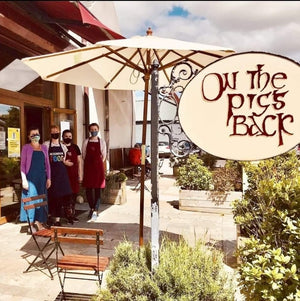 What a tough 18 months it has been?  But we have light at the end of the tunnel!!
We hope that all our customers are keeping well and we want to thank you for your continued support.
For all of us at On The Pigs Back it has been busy. A lot of our sales have moved online, and our Douglas kitchen has remained busy making our award-winning quiches, pastries, sausage rolls, and tasty frozen ready meals, perfect for getting back into busy office life! All of these and much more are available for you to order online at https://onthepigsback.ie/ and have delivered directly from our store, via courier, to your door from Tuesday to Friday or be collected in our Café/deli in Douglas!
Alternatively, you can order your On The Pigs Back products here, www.neighbourfood.ie. Find a day and collection point that suits you, there are markets right across Cork city and surrounding areas.
If this isn't for you, remember our English Market stall remains open Monday- Saturday from 9am-5pm. Here you can browse our selection of over 100 cheeses from mostly Irish and French producers along with our wide selection of charcuterie and award-winning homemade Pâté and Terrines, fresh breads, and Irish artisan food. You can also choose from a wide selection of pizza slices, quiches, and sausage rolls, made on-site and best enjoyed warm from our oven!
Reuniting with friends for the first time in a long time or just grabbing lunch? Our Café-deli in Douglas has reopened Tuesday-Saturday from 9:30am-4:30pm and will be reopening on Mondays soon. We have an exciting menu offering a wide range of hot and cold sandwiches, salads, pastries, and quiches. All are made using locally sourced ingredients and can be enjoyed in our indoor or outdoor seating areas. Our delicious food will be served to you with a friendly smile, under our masks of course!
In the coming weeks, as restrictions lift, and life gets back to 'normal' we look forward to our special evening events including art exhibitions, concerts and plays recommencing. Keep up to date on what's happening through our Facebook and Instagram pages!
We are proud to have kept our employees safe and well during this time, together with supporting our small artisan producers. It has been busy, but we couldn't have done it without our fantastic team and loyal customers.  Thank you for your continued support and we look forward to seeing you soon!