Great Taste Award Winners Available at On The Pig's Back
Great Taste Award Winners Available at On The Pig's Back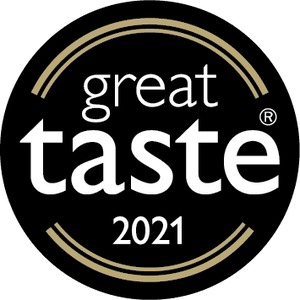 We are thrilled to support and stock many of the Great Taste Award winners.
What are the Great Taste Awards?
They are the world's largest and most trusted food and drink awards that are run annually and administered by the Guild of Fine food in the UK. This year it attracted over 14,000 entries that were all judged blindly by a panel of 355 judges.
Out of the 14,000 entries 4,027 attained a one-star rating, 1,138 products got a two-star rating and less than 2% of the entries were awarded the top three-star rating.
We at On The Pig's Back would like to congratulate all the winners on their prestigious awards and are delighted to announce that we are stockists of many of the winners!
Call to our English market stall or café in Douglas to purchase and see if you agree with the judges!
Have a look at what we stock and put your tastebuds to the test…
One-star rating:
Dr Kom Premium Kombucha: Pomegranate-cardamom kombucha
Mahers Coffee& Co: Ardfield Espresso
Savage Sauces: Fermented Siracha
Crossogue Preserves
Kinale Mead Co: Hazy Summer Mead
Keogh's Crisps: Irish Atlantic Sea Salt
Two-star rating:
NutShed: Original Smooth Peanut Butter
J&L Grubb Ltd./ Cashel Blue: Shepherd's store and Cashel Blue Cheese
Cooleeney Cheese: Ruby
Goatsbridge Fish Processors: Trout Pate
White Mausu: Black Bean Rayu
Durrus Cheese: Durrus Óg
Three-star rating:
Inagh Farmhouse Cheese Ltd: St Tola in Ash
Attyflin Litd: Attyflin Estate Rosette Apple Juice
Once again, we are delighted to support the above producers and many more. Let us know what you think of the winners.
Next week… we're in the spotlight for the Irish Food Awards. Keep an eye on our website and social medias for the results… wish us luck!