On the wild side
On the wild side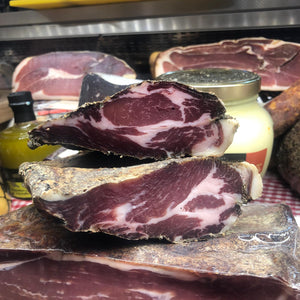 Recently I had the pleasure of talking to Olivier from On The Wild Side, he first came to Ireland in 1994 and has always worked in the food industry . Moving around to gain experience ,skill and knowledge , he also spent some time in Spain. Seeing how many products were imported and made in a country with ingredients from another gave him the idea to make his own. Foraging and supplying to local restaurants and markets inspired him to become his own boss. Coming from a farming back round where his father slaughtered pigs for the family, His ethos to use wild and organic produce where possible guided him through the industry. Over 10 years ago he decided to do his own cured meats and saucisson. He has a passion for small products, giving a finer quality. Sourcing his pigs locally where they are outdoor reared , free from GMOs and free from antibiotics and vaccines. Also making his products more sustainable with less of a carbon foot print. The pigs are slaughtered locally in Kenmare and he butchers them himself  and selects the best cuts for his products.
On the wild side only use a low dose of nitrate as a preservative . The saucissons are seasoned with salt and pepper, the chorizo with smoked paprika sourced from Spain and the smoked saucisson is beechwood smoked. The saucisson are matured for 4 weeks in a chamber he constructed himself and controls manually. He checks the PH levels and humidity levels personally. Olivier produces a French style saucisson preferring it drier in comparison to a German Würstchenwurst or an Italian Salsicha . His charcuterie are delicious paired with whiskey and Guinness and the beechwood smoked saucisson is also a fantastic meat for a pizza. Olivier also produces delicious lonzo , coppa and boudin noir .
Lonzo,peach and feta salad 
3 ripe peaches
100gr On the wild side lonzo, sliced
100gr of feta cheese , I used Ardsallagh (available in the market)
100gr of Rocket or mixed leaves
4-5 sprigs of mint (roughly 20 leaves)
10 sweet ripe vine cherry tomatoes , cut into 1/4
Dressing
1 Tsp of Dijon mustard
2 Tbsp of white wine vinegar
6 Tbsp of olive oil
pinch of sea salt
Shake vigorously in a small jar or whisk in a bowl
Method
Cut each peach into 6 segment
Lightly oil a hot griddle pan and grill peaches on both fleshy sides. Remove and allow cool
In a mixing bowl place your mixed leaves , torn mint leaves and 2 tbsp of dressing
Crumble the feta cheese, add tomatoes, the cooled peaches and half of the sliced lonzo. Mix well , divide to two plates .
Place the remaining lonzo around the salad with a few mint leaves for garnish.
   Enjoy !