Mont D'Or
Mont D'Or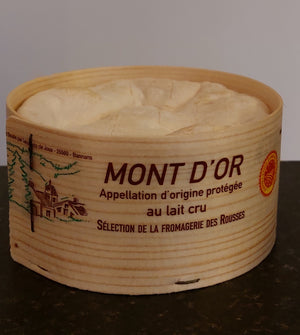 Vacherin mont d'Or is a soft, creamy seasonal cheese made from cows milk. It's place of origin has been controlled since 1981, usually made in the villages of the Jura mountains. It is traditionally made in the winter when the cattle come down form the Alpage and there is not enough milk to make Comté cheese. It is sold in round wooden boxes with diameters od spruce harvested by specialists called "Sanglier".
It is served warmed in it's packaging and eaten like fondue with crusty bread or potatoes. 
Recipe:
1 box of Mont d'or.                                                  1 sprig of rosemary.                                              1 large clove of garlic.                                            1 tbsp dry white wine
Preheat the oven at 200°c/gas mark 6. Remove label/sticker from the cheese packaging. Peel and slice the garlic clove in 3 ,cut the rosemary in 3 . Make 6 incisions and insert the garlic in 3 and the rosemary in the other 3 . Drizzle with the wine, place the lid on top and bake for 15-20 mins. 
Serve with crusty bread or potatoes. Some of our delicious charcuterie and cornichon. Enjoy!