What is a Quiche Lorraine?
What is a Quiche Lorraine?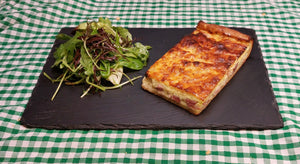 While there are many variants of quiche, the classic quiche Lorraine derives from the Lorraine region of France. An open pie made with eggs, cream or milk and lardons. Originally made using a bread dough, it has evolved to a shortcrust pastry. Neighbouring region, Alsace make their own version by adding cheese and onion.
Modern variants include cheese, vegetables or seafood. Often the lardons are replaced with ham. We have our own traditional quiche Lorraine using French emmental cheese and Jack mcCarthys free ranged ham . 
Recipe for 6 people
300g shortcrust pastry
300g unsmoked bacon lardons
30cl cream/ creme fraiche
30cl milk
5 eggs
salt and pepper
nutmeg
Method
Preheat oven @180 / gas mark 6
Roll dough to fill the pastry tin
Prick the base  with a fork
Fry off lardons ,place on a piece of kitchen paper to remove excess oil
Beat the eggs,cream and milk
Season with salt ,pepper and a pinch of ground nutmeg
Add lardons to egg mix and pour over the dough
Bake for 45-50 minutes
 Enjoy !
Just in case....Shortcrust Pastry
225g plain flour
100g butter
3-4 tbsp cold water