Medaille de Chevalier de l'Ordre du Merite
Medaille de Chevalier de l'Ordre du Merite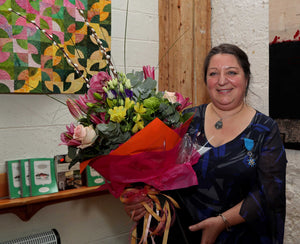 PRESS RELEASE
JANUARY 2017
Cork's Own French/Irish Food 'Ambassador' to be Presented with Top Award by the Real French Ambassador to Ireland


Picture : Lord Mayor of  County Cork Seamus McGrath,  Ambassadeur de France en Irlande Jean Pierre Thebault,  Isabelle Sheridan, Minister of European affair Dara Murphy, Lord Mayor of Cork Des Cahill.

French woman Isabelle Sheridan, proprietor of On The Pig's Back and one of the central figures in the revival of Cork city as a 'food capital' ever since she first established her nationally-renowned food emporium in the iconic English Market almost 25 years ago is to receive the highly prestigious Medal of the Chevalier de l'Ordre National du Mérite, to be presented by the French Ambassador to Ireland this week (Friday January 20th).
The highly prestigious award (past recipients include oceanographer Jacques Cousteau, actor Gerard Depardieu and former President Francois Mitterand) will be presented to Sheridan in a special ceremony at the Douglas outpost of On the Pig's Back by the French Ambassador to Ireland Jean-Pierre Thébault and is being awarded in recognition of her enormous contribution to both French and Irish food, her promotion of French and Irish culture and for helping to establish strong cultural and trading links between the two countries.
Though born in Montesson, near Paris, Sheridan has long since become an adopted daughter of Leeside since first arriving in Cork 30 years ago, eventually marrying an Irishman and raising three children in the city. Missing the cheeses of her native France, she first began selling them back in 1992 from a little stall in the English Market—initially dubbed 'The French Stall' by local shoppers—along with her own homemade range of pates and terrines but her range of produce gradually expanded to an equal mix of the very best of both Irish and French cheeses, charcuterie and artisan food products.
Today On the Pig's Back is recognised as one of the very finest food emporiums in the entire country and Sheridan and her outlet played a hugely important part in the revival of Cork's English Market where, as one of the very first of the new breed of modern stallholders to offer produce differing from the traditional range of goods sold in the market, she helped radically expand the scope of the market, attracting a whole new breed of consumer and beginning the process which saw the market itself become an internationally renowned food institution.

She has received multiple awards for her own produce, including Gold Blás na hÉireann and British Great Taste awards and has also been acknowledged at the highest level for her services to the Irish artisan food sector, including a much-coveted Irish Food Writers Guild award in 2015, all the while introducing Irish consumers to some of the very finest French cheeses, charcuterie and other produce
.
The award additionally recognises and acknowledges Sheridan's other cultural contributions through her establishment of the Cork French Food Festival which ran in 2010 and 2013 and was both a focal point for French natives living in Cork and a means of establishing strong links between them and the local community. Sheridan also stages regular art exhibitions by local artists and concerts by local musicians with some of the top names in Irish traditional music having played in her Douglas branch, which houses a café/restaurant, delicatessen and production kitchen for the On the Pig's Back range of produce, now sold all over the country.
These food, artistic and cultural links are especially important to Sheridan and, at a time when the prospect of Brexit is causing great uncertainty in the Irish food world due to Ireland's huge reliance on Britain as a primary market, she is particularly keen to help further strengthen the food links with her native France and to continue to play a part in helping Irish producers, large and small to diversify and find markets for their produce elsewhere in Europe. To this end, many of those who will gather on Friday January 20th in On the Pig's Back, in Douglas Woollen Mills, to celebrate Sheridan's award will include many renowned producers and other figures from the Irish food world.


For further information, contact Isabelle Sheridan Tel. 087 772 0494 or email isabelle@onthepigsback.ie
On the Pig's Back, English Market, Cork
On the Pig's Back, St Patrick's Woollen Mills, Douglas, Cork
www.onthepigsback.ie