On The Pigs Back Upcoming Events
On The Pigs Back Upcoming Events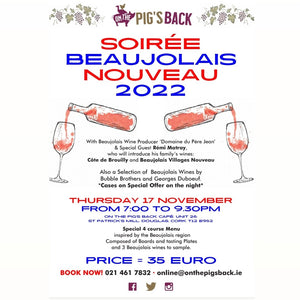 November is a busy month at On The Pig's Back with multiple great events to look forward to. So if you are looking for something fun to do in Cork during the evening in November than we have got you covered. From music and art to food and wine we got it all! 
The 11/11: Opening of the Cork Potters Exhibition with a Craft fair & food. 
This is with the Society of Cork Potters who will create a mini craft market with functional and Sculptural Ceramic works. These come just in time for Christmas as these beautiful and thoughtful ideas are ideal for unique Christmas presents for the lover of local craft art in your life. 
This opening occurs from 6-8:30pm on Friday the 11th. With finger food on the night - there will also be wine and beverages available in a night that is sure to celebrate the amazing local art made here in Cork. Even if you miss the launch, the exhibition will run from the 5th/11 to the 14/01/23, and you can still buy and purchase ceramic art pieces in exhibit. But we would highly reccomend coming on the opening as to get an emmersive experience.  
12/11 : Flavour Notes Cork - Inaugural event at On The Pigs Back Douglas
On The Pigs Backs' chefs (Paul Sigler and Ciaran Looney) collaborate to form a collective of chefs and musicians (Sean Looney and Louise Kelleher) on a night that is sure to immerse your senses through sound and taste. Join us for a night of soul music combined with soul food with the dishes focusing on the American South. The eight-course meal comes to just €40 with a 20% student discount available. The event is taking place Saturday evening 12th of November at On The Pigs Back Douglas where wine and other beverages will be available on the night. The evening is guaranteed to be one to remember as a collective of food and music combine in a place where talent meets art. 
​17/11 : Beaujolais Nouveau Night 
On The Pigs Back are celebrating French favourite Beaujolais Nouveau Night Thursday the 17th of November. Wine lovers across France take to the streets in a series of festivals welcoming the first wines of the year. Here at On The Pigs Back we tend to celebrate it also. Our long connection to French traditions means there is nowhere better to celebrate the evening than here with us!
With Beaujolais Wine Producer 'Domaine du Pere Jean' plus Special guest Remi Matray to speak on his family's wines: Cote de Brouilly and Beaujolais Villages Nouveau. 
With a special four course menu on the night - inspired by the Beaujolais region which is composed of boards and tasting plates plus 3 Beaujolais wines to sample, this really will be a special night of celebration. 
Our Beaujolais night has already seen very quick responeses and looks like it will be sold out ahead of schedule so get booking now to avoid dissapointment!!!!
Price is €35 and bookings are available at 0214617832 or email online@onthepigsback.ie. 
Each event is unique to itself and is sure to bring in a crowd and a great atmosphere. So come along and see what all the fuss is about.