Festive Food Gift Hampers
Festive Food Gift Hampers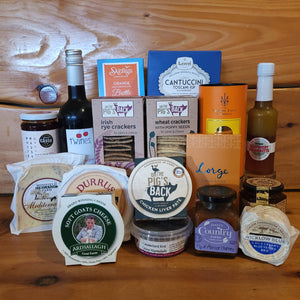 Food Hampers are a fantastic, thoughtful and unique gifts that really show foodies how much you care. If you are looking for amazing Irish gifts this Christmas than have a look at our extensive range of hampers. There is something for everybody from a large mixture of artisan products to Cork hampers and even French Specalist hampers filled with the best products from France. Now we have added our Ambient Hamper which means none of your hamper needs to be chilled. Perfect for long journeys! 
On The Pigs Back Hamper - 
Our bestselling hampers come in both medium and large. Fantastic range of Irish artisan products from amazing producers. The medium hamper comes with wine, crackers, pate, cheeses, Irish chutneys, chocolate and plenty more Irish artisan products. 
The large has two bottles of wine plus plenty more of the rest! 
Cork Rebel Hamper -
Know someone who absolutely loves Cork? Then there is no better gift to give them than some of the best Cork products, supporting local Cork suppliers!
All products are made and produced in Cork City and County with some amazing brands such as Gubben, Millens, Rebel and our own On The Pig's
Back homemade Pates, Terrines and Crackers & plenty more!
French Foodie Hamper -  
A unique and caring gift for your friends and family! Know someone who is missing home or just loves French Food? Our French specialist hamper brings a blend of the best of French foods together 
On The Pig's Back Ambient Hamper- 
Want to get a great foodie hamper that lasts? 
Our ambient hamper is perfect for those with a long travel who still want to get a yummy foodie gift! 
On the Pigs Back Cheese & Charcuterie Box
Our Cheese and Charcuterie Box is fantastic for your Christmas dinner party!! Serving 4-6 people 
The box includes everything you need to assemble and recreate at home the perfect board!