GOLD for On The Pig's Back
GOLD for On The Pig's Back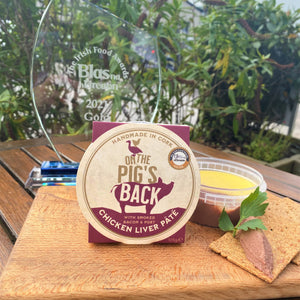 Last Saturday saw the winners of the Blas na hEireann, Irish Food Awards announced… and we won GOLD.
Blas na hEireann is the largest blind tasting competition in the country for quality Irish produce with entries from right across the Island of Ireland.
The criteria and judging system itself were developed by Blas na hEireann with the Food Science Department in UCC and the University of Copenhagen and is now recognised as an international industry standard.
We are over the moon that our Chicken Liver Pâté with Smoked Bacon and Port won Gold in the Meat Terrines and Pâtés category.
Our pâté remains the tastiest in Ireland… and beyond, even with the competition growing every year!!!
We are proud to win awards at Blas na hEireann annually and are delighted that we are maintaining our high, award-winning standard. Follow this link to find out what we have won through the years! https://onthepigsback.ie/pages/awards-recognition
We look forward to entering again next year!
We extend a huge congratulations to all the finalists and winners across all categories. An additional thank you to GS1 Ireland for supporting this category.
Without you, our customers, this wouldn't be possible, so we want to thank you all very much for your continued support.
Our Pâtés are available to buy in the English Market, Douglas café/ deli or online at https://onthepigsback.ie/collections/on-the-pigs-back-products where they are on offer for a limited time only, so grab yours while you can!!! You can also find our products in your local Supervalu and at Sheridan's Cheesemongers counters in Dunnes stores.
Let us know what you think of our Pâtés and whether you rate them as Gold standard… we certainly do!
Don't forget to give our other award-winning products including our Chicken Liver Pâté with Garlic and Brandy and Homemade Terrines a try!