Cork's Long Table Dinner 2017
Cork's Long Table Dinner 2017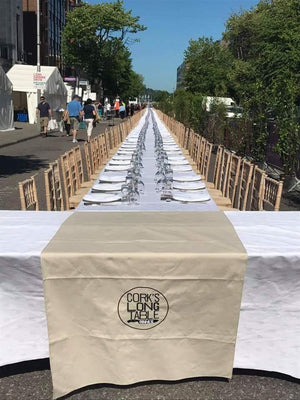 On Sunday Evening of the 18th of June 2017, Cork City's South Mall was transformed into a wonderful dining experience, The Long Table Dinner.
Over 400 diners joint together to experience local cuisine which local restaurants prepared (including Ali's Restaurant, Electric Fish Bar, The Rocket Man, Nash 19, Jacques, Jacobs on the Mall, No. 5 Fenn's Quay, Isaac's, The Imperial Hotel, The Farmgate Cafe, L'Atitude 51).
Further to being prepared and catered by some of our city's finest restaurants, boards from local producer's were supplied by local food supplier's. This is where we came to the party, supplying cheese boards of Hegarty's Cheddar Cheese & Milleens Irish Farmhouse Cheese. Both of these cheeses are produced here in Cork, and it was such an honour to get involved with this event with these great Cork Cheeses!
It's amazing to see how something magic can happen when
people work together and support local!
Incredible local food, for an incredible local event!