EASTER 2020: On The Pig's Back's News and update during Covid19 situation
EASTER 2020: On The Pig's Back's News and update during Covid19 situation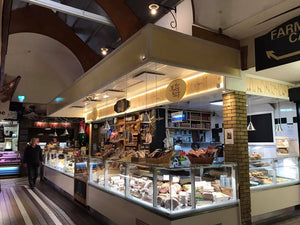 We are very overdue for a bit of an update on how On The Pigs Back is dealing with the Covid19 situation.
Our business has completely being upside down. It's being very sudden, and we are working very hard, to keep the business going, keep the people employed, keep our employee and customer safe, keep our many small artisan food suppliers going... That's a lot, and On The Pigs Back team has truly showed their Heroes colors!! 
So the situation now (well at the 4th/4/20... but that can change)  is: 
Our beautiful On The Pigs Back' s Stall in the English Market is still up and running. The Cork English Market has being exceptional in implementing all social distancing, and stay safe procedure... We are so proud to be part of it!  
The Cafe- deli in Douglas is now closed to the public, but the team in the background is still  working hard in production unit making our Pates & Terrines, cooked ham, Spiced Beef, Pastramis etc... 
If you have any specific requirement, you can also ring us at 021-4617832 or email us info@onthepigsback.ie, and will take each query as they come.
You can still buy online at www.onthepigsback.ie. We are now working on improving it, with new products and new services.... if there is a product there, that you are looking for ... let us know. All suggestions are very welcome. 👍
When ordering on the web site, you can choose to collect your order. Our shop in Douglas is closed to the public, but we are here every Thursday Night, and/or we can make some specific arrangement.
We also deliver Nationwide with DPD who give a next day delivery service, except for Saturday and Sunday. Which means that all orders for delivery Friday need to be received before Thursday morning. (ie midnight Wednesday).
Our Kitchen in Douglas is still making our Award Winning Quiches, pastries, sausage rolls, and also very tasty frozen ready meals, which are  available online  at www.neighbourfood.ie on specific days at the Neighbourfood Cork City Markets, Watergrasshill Market, and Douglas Market.
We are also back hosting our own  Douglas Neighbourfood Collection on the Thursday night : https://www.neighbourfood.ie/markets/douglas . You can buy online directly to many local food producers, growers, farms,  butchers, cheesemakers etc... .and then you can collect it from you choosen Market Collection, ours being from 4:30 to 7pm on Thursday night. It's very well organised and very safe. If really needed, we can even drop your shopping in the boot of your car parked outside, and there is also some home delivery options later in the evening.
So that what we have been up to for the past 3 weeks ... busy bees...
I am just after doing up a Special Xtra Sweet Easter Hamper ... we all need a bit of Cheer-up ... so have a look! 🎁🎁
So hope this information was useful, and that you will be happily enjoying some of our food and products soon. 
All the best, and Happy Easter everyone !!