New FlavourNotes event at On The Pigs Back
New FlavourNotes event at On The Pigs Back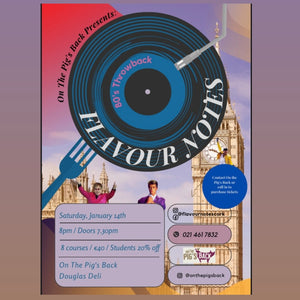 Looking for something to do in Cork? Trying to find an event this Saturday 14th? With a 8 course tasting menu and live music for just €40pp - a fantastic price for what is on offer. 
After two amazing events, FlavourNotes are back with their first event of 2023. This time the focus is on 80's music and food. Step into the past where FlavourNotes collaboration of chefs and musicans comes together to engage your senses. Relax, unwind and enjoy the best of what the 80's have to offer! 
Tickets are available at 0214617832!