Launch night of "Shared Themes" joint art exhibition
Launch night of "Shared Themes" joint art exhibition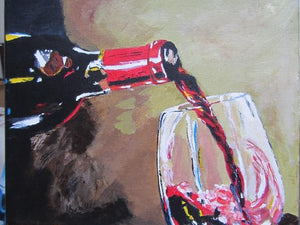 You are invited to the launch night
of the joint exhibition of
by Patrick Madden and Marita Shaw McGeady
at On The Pig's Back Cafe & Deli in St. Patrick's Mill in Douglas
"Shared Themes is a bringing together of images created by two Artists who love unleashing colour onto canvasses creating works of art that encapsulate life's moments and silently speak volumes."
Patrick Madden was born in Cork and is an adventurous and creative Irish artist. He works mainly in acrylics, as well as oils, watercolours, pen and ink mixed media. Everyday life is reflected in his paintings of people's behaviour on mobile phones, shopping, walking in the rain, relaxing and conversing.
His recent paintings represe
nt varying styles and his artwork continues to evolve towards an expressive and imaginative use of colour.

 


Recent exhibitions featured new and innovative colourful paintings comprising visually interesting depictions of people as well as landscapes, seascapes and streetscapes that capture the moods of Cork City and the natural beauty of West
Cork, and a range of still lifes that portray the essence of the subject in exciting colour.
Contact Details
Patrick's work can be viewed by appointment at his studio in Cork city.

 


He can be contacted by email : patrickmadden04@eircom.net
and by mobile phone 087-2415145.
Visit: Patrick Madden Artistry at

 

www.patrickmaddenartist.co

m

 



Marita Shaw McGeady is a Cork born artist, teacher and food writer. She was educated at St Angela's in Cork and later St Angela's College in Sligo. She inherited her love of painting from her late mother Rita Lynch, a well-known Cork soprano, who in her later years concentrated on art.
Marita's personal preference is to paint landscapes 'plein air'. She refers to "the real joy that comes from capturing the essence and atmosphere of a landscape while sitting quietly with nature". As a counterbalance she describes 'Still Life' as giving her an "opportunity to use bright vibrant colour with greater emphasis on light and shade".

 


Marita has exhibited in Ireland and France. She also sells privately and paints commissions to order. More examples of her work can be seen on Facebook: Marita Shaw McGeady Art.

 


Contact Details


Marita can be contacted by email: www.maritamcgeady@hotmail.

com

 


Mobile phone: 00353 (0) 86 3189826.

"Shared Themes" exhibition will be at On The Pig's Back Cafe and Deli until mid-November.